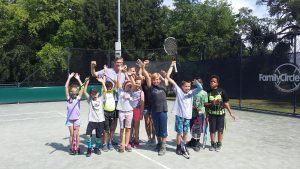 For over a decade the LYTA has introduced tennis to Charleston County School students through after-school programs, play dates, summer camps, field trips and participation in the Tri-County Elementary and Middle School Tennis League. These programs create a pipeline to participation in middle school, high school, Junior Team Tennis, college play and for a love of a game that players can experience at any age. These programs are designed to emphasize fun times, skill development, physical activity, social skills, and family involvement.
Tennis has become a popular addition to the curriculum of Physical Education teachers in the district. Participating schools receive training, a curriculum and equipment, as well as ongoing support at no cost.
League play provides participants with an opportunity to test their skills and meet other school tennis players and for parents to experience the game of tennis as a family. The LYTA holds coaches' training days and student practice sessions so that students can learn all the basics prior to matches.
LYTA summer camps give students the opportunity to continue with low cost/free fun tennis activities and academics incorporating the NJTL's Academic Creative Engagement curriculum.
If you are a parent or a part of a school and are interested in more information or would like to become part of the LYTA Tennis in the Schools Program, contact Jennifer Baez, LYTA Program Administrator at info@lytatennis.org.
Website URL – https://lytatennis.org/
(updated 6/22/21)