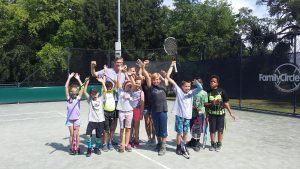 LYTA has introduced tennis to Charleston County Schools through after school programs, Saturday play dates, and creating a pipeline to participate in Junior Team Tennis. These programs emphasize creating positive learning experiences for students that promote academic and social change through tennis. With an emphasis on fun and skills development, tennis has become a popular addition to the curriculum of many Physical Education teachers in the district as well as in the Kaleidoscope after school program.
Participating schools receive training and equipment as well as ongoing support. School coaches are provided USTA training manuals filled with training and play ideas. There is no cost to participating schools or the students for equipment or training.
LYTA's goal is to transition after school participants into other local youth tennis programs such as the Tri-County Elementary and Middle School Program, and USTA Junior Team Tennis.
To provide participants with an opportunity to test their skills and meet other school tennis players, LYTA holds coaches training days and student play dates.
If you or your school is interested in more information or would like to become part of the LYTA Tennis in the Schools Program, contact Jennifer Baez, LYTA Program Director at info@lytatennis.org.