Tennis Sized Right For Age And Ability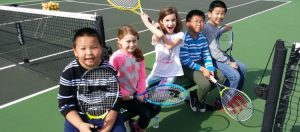 10 and Under Tennis utilizes a new play format that helps kids learn faster and easier with smaller rackets, slower balls, smaller courts and easy scoring that's perfect for younger kids.
This new and innovative format provides the opportunity to learn, play and compete in a fun and encouraging environment, rather than being overwhelmed by equipment and courts designed for adults. The age appropriate equipment and courts enables kids to experience and enjoy the fun of competing much earlier.
To learn more about 10 and Under Tennis and facilities in your area that offer the program, visit 10andUnderTennis.com or contact Steve Zalinski at 843-441-2473. 
Visit the Lowcountry Youth Tennis Association Facebook page for upcoming 10 under Play Days and tournaments in the region.